Sweet Box Moulds
For that extra indulgence, why not sell your chocolates in an edible container! These high quality moulds make an eye-catching addition to your chocolate offerings. Please note that these items are subject to VAT.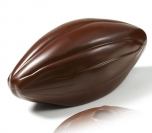 Cacao Barry Decor
160g; 1 per mould; 195mm x 90mm
SMF5900

In-stock: 2
Cacao Barry Decor
Large:W112xH98xD21mm; Small:W78x78x19mm/15mm
SMF5904P
You may wish to present these in a clear box such as Large Heart Box or Small Heart Box. If so we also recommend using r...

In-stock: 3