Chocolate Courses
Whether you are completely new to chocolate work or you are an experienced professional wishing to learn and perfect new skills, attending the right chocolate course can prove to be an invaluable investment. You will find a selection of courses below; the ones marked with a star have been tried and tested by us at Keylink!
If you provide chocolate courses yourself and would like to feature your courses on this page, please contact Lynne Eaton at lynne@keylink.org or call on 0114 245 5400.
Andrew can travel to your own premises anywhere in the UK
Course vetted by Keylink
Andrew Thwaite Chocolatier
Andrew Thwaite is a highly experienced chocolatier with over twenty years of experience in the chocolate and confectionery industries.
Andrew Thwaite is a highly experienced chocolatier with over twenty years of experience in the chocolate and confectionery industries.
If you are looking to start a chocolate business, or you are a chef or pastry professional looking to develop your chocolate skills, Andrew can help you achieve your chocolate ambitions. Delivering training sessions either from partner venues throughout the UK or alternatively Andrew can travel to your own premises anywhere in the UK and provide all the necessary ingredients and equipment.
27 Packhorse Road
Gerrards Cross
Bucks SL9 7QA
Auberge du Chocolat
Chesham, Bucks
Auberge du Chocolat in Chesham Bucks offer a full range of courses for all skill levels. They also do adult and childrens parties, social events, corporate team building and school visits. For more information visit the Auberge du Chocolat website
Courses vetted by Keylink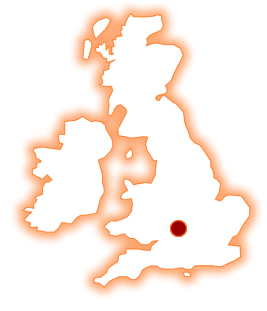 Callebaut UK Academy (Banbury)
The courses, given by Callebaut technical advisors and Chocolate Ambassadors, focus on in-depth theoretical knowledge and putting it into practice. Callebaut has developed a wide selection of courses, ranging from introductory courses for novice craftsmen to advanced courses for experienced confectioners, pastry chefs and chefs de cuisine, with specialised courses for each business segment. Visit the Callebaut Chocolate Academy website to see the course list
Chocolat Chocolat
The Cambridge School of Chocolate Making
Our introductory course is perfect for a fun afternoon, but is also an ideal first step for the novice wanting to become a professional Chocolatier. The Courses are run in central Cambridge in an easily accessible location a few minutes walk from our shop in St Andrews Street. The Chocolatier who runs the course will take you on a guided tour of some of the highest quality blended and single origin Chocolate available so that you can identify the distinctive flavours of each and know which you prefer: there will be plenty of samples for everyone to taste and compare notes! You will then move on to the practical part of the course where you will learn how to handle Chocolate: one of the most demanding ingredients used in the kitchen! The Chocolatier will show you how to prepare (Temper) Chocolate using the traditional methods of the Artisan Chocolatier so that you can ensure that your own chocolates have the distinctive snap, shine and flavour of high quality chocolate. And then you will get your hands covered in chocolate when you start to make your own handmade Truffles. With the expert guidance of the Chocolatier you will make, wrap and present between 30 and 40 delicious hand made truffles. At the end of the course you will be given a Certificate and be able to take your truffles home to show your friends and family your new skills as a "Chocolatier in Training"! Your Certificate entitles you to a 10% discount on all Chocolat Chocolat's products for one year. Courses are normally held on Saturdays and we will contact you by email or phone to arrange a date for your course. If you have any questions please email us on cambridge@chocolatchocolat.co.uk
Chocolate Tree
Springbank
Temple Guiting
Cheltenham
Glos
GL54 5RT
Tel: 01451 850504
Email: info@chocolate-tree.co.uk
Chocolate Tree
Come and join in on one of our chocolate courses in Gloucestershire. Enjoy the world of chocolate and share my passions for Easter Egg Workshops, Chocolate Making ie. truffles, and Chocolate Shoes. We cater for individual, groups and children either at our place or yours, dependent on numbers. I will help to unravel the mysteries of chocolate for you and give you the opportunities for tastings too. We will be working with Belgian chocolate and I aim to make each course fun and informative through demonstrations and one to one coaching. It is also my aim to give you the skills and confidence to work with chocolate at home. Venue: Sherdons Golf Centre, Tredington, Tewkesbury These chocolate workshops are set in a relaxed atmosphere and are suitable for all age groups and levels of experience School Workshops A truly fun session in a 'learning environment' Each workshop is aimed at the children being creative whilst exploring the qualities of chocolate and acquiring new skills. For further information and to discuss your requirements. Please contact me on 01451 850504 or visit the Chocolate Tree website.
19 Izane Road
Bexleyheath
Kent
DA6 8NU
Cocoa & Heart Chocolate workshops
Cocoa & Heart Chocolate workshops are the perfect introduction to chocolate making.
They are suitable for all chocolate enthusiasts who want to learn how to create chocolate truffles and confectionery at home.
Workshops are run in small groups in a friendly and relaxed atmosphere in our Victorian kitchen where everything centres around chocolate.
All courses are hands on and you will get to practise how best to roll, dip and decorate your chocolates, learn how to temper chocolate and create chocolates with a professional finish.
There will be plenty of time to taste different types of chocolates and soft centre fillings as we show you how to add flavour to your chocolate truffles and what combinations work best. All courses include a detailed course information pack to help you continue making chocolates at home and a beautifully gift wrapped box of your very own chocolates.
Our Chocolate Workshops Gift Vouchers are perfect as a gift for chocolate lovers and enthusiastic cooks alike.
1-3 Cuddybridge
Peebles
Scotland
EH45 8HX
Courses vetted by Keylink
Cocoa Black - Chocolate & Pastry School
If you're looking for a chocolate-making class, then the Chocolate & Pastry School in Peebles near Edinburgh (Scotland) will have a class to suit. Run by 2012 UK World Chocolate Master, Ruth Hinks, the school offers a range of inspiring chocolate-making classes which teach the skills required to create handmade chocolates at home.

The Chocolate & Pastry School is one of Europe's leading training facilities for chocolate making and pastry courses. Launched by 'UK World Chocolate Master 2012' and 'UK Confectioner of the Year' Ruth Hinks, the Chocolate & Pastry School welcomes national and international students with a passion for chocolate making and pastry work. The Chocolate & Pastry School has a newly purpose-fitted kitchen where you can learn the latest chocolate-making and pastry chef techniques and innovations, and work with the very best equipment and ingredients. For details of forthcoming classes at the Chocolate & Pastry School, see our class calendar.

Visit the course website
Dumouchel
1 Ninelands Lane
Garforth
Leeds
LS25 1NX
Courses vetted by Keylink
Dumouchel - Cookery School & Consultancy
Our boulangerie, patisserie and chocolaterie was established in 1998. We pride ourselves on our expertise as bakers and chocolatiers and have become known across Yorkshire for our delicious range of pastries, cakes, breads and chocolate. Click here to visit the Dumouchel Cookery School website
JoJoCocoa
Cambridge
If you love chocolate and want to learn some basic skills and tricks of the trade in an informal environment then JoJoCocoa has two hotel-based workshops to tempt you with!
Learn how to make a load of chocolates to take away and impress your family and friends. At the 'Introduction to Chocolate' workshop you will experience two hours of chocolate making and tasting, as well as the chance to learn all about the bean-to bar-journey and partake in a fun quiz with prizes. A great way to be introduced to chocolate.
If you fancy a more intensive workshop, then the 'Deluxe Chocolate' workshop will suit you. This is a packed course using Belgian chocolate and décor, lasting three hours and teaches more techniques and skills to go away at practise at home.
If you are a bit of a connoisseur of chocolate, then you will love this workshop! You will work with edible transfer sheets, texture sheets, praliné, truffles and much more. There is a fun quiz to test your chocolate knowledge, chocolate tastings and an informative bean-to-bar session.
Course vetted by Keylink
Slattery's in Manchester
Not only do Slattery's have a reputation for supplying unique wedding and celebration cakes, they are becoming increasingly well known as 'The Chocolate Experts'. Slattery's now offer a wide range of courses which are designed to pass on their knowledge and skills. Visit the Slattery's website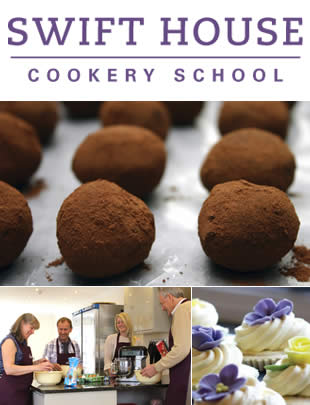 Swift House
The Street
Bethersden
Kent
TN26 3AG

Telephone: 01233 820040
Mobile: 07771 871111
Email: cook@swifthouse.co.uk
Swift House Cookery School
All our courses are offered and run by professionally trained staff, who are on hand to offer you a bespoke training experience. Our classes are intentionally kept small (maximum 8 but often smaller) ensuring our students are given all the one-to-one attention they require. Other cookery classes are being added regularly so keep an eye out for a course that suits you. If you require something more tailor-made to cover a specific area, then please do get in touch to discuss our one to one sessions. Visit the Swift House School of Cookery Website