With the benefit of our many long-standing and exclusive relationships with some of the leading manufacturers across Europe, Keylink is a true 'one-stop shop' for all the everyday and speciality products that a professional chocolatier needs, from chocolate and ingredients to packaging and machinery.
You can download a pdf copy of our latest catalogue or alternatively buy a printed copy with over 300 pages of everything you need for your chocolate work.
Get your copy now
The entire 312 page printed version in glorious reality, now available in two ways:
Free Version - Simply add to an order you are making and it's free!
Paid For - If you'd just like a copy of the catalogue, we'll send you one for only £2.95
New - View online
The newest way to view our new catalogue - simply click the cover and browse through all 312 pages.
Download a copy
Click here to download (Approx 50 MB)
Chocolate Petit-fours
The essential guide for professional pastry chefs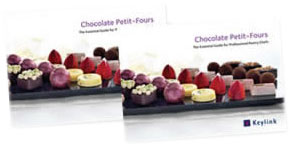 Click here to download (Approx 1.3 MB)
---
You can download the IBC catalogues here
IBC Color Cuisine Catalogue
Specialised in food colour and decorations, IBC's Color Cuisine™ provides the right knowledge and products to make your creations stand out. The Color Cuisine™ is an inspirational range based on easy-to-use techniques and powerful products, in which everyone who loves to cook finds that extra touch for any creation. From established restaurateurs to passionate amateurs, from appetisers to desserts, The Color Cuisine™ opens its doors to every kind of chef, prompting them to join, shop, connect, share and inspire.
Any items you don't see in the Keylink catalogue, please contact our Sales Team for pack sizes, prices and availability.