Knowledge Bank » The Blog
How to Make the Most of a Summer in Chocolate
Posted: 17 Apr 2022
Surfing the Summer Slump: How to Make the Most of a Summer in Chocolate
If you're in the way of working with chocolate, you probably know that sales for the stuff tend to take a bit of a hit over the summer months.
And, when you think about it, it makes sense, too. Year on year, British summers get hotter, and stickier, with temperatures topping 30 degrees Celsius becoming more commonplace on weekly weather app overviews.
Summer is the time when juicy drinks in cold bottles, dripping with condensation, and worryingly bright ice pops jostle for centre stage, leaving winter's warming favourites in the wings.
Even the likes of Cadbury and Mars end up feeling the heat.
However, there's no reason why your business should settle for a siesta. Surf the summer slump with a few of our fantastically simple yet effective ideas for investment solutions, recipes and packaging.
Consumer Habits for Summer 2022
Before we dive head first into the challenge, it's helpful to know what we're up against.
Although there has been a definite shift towards online shopping and ecommerce since lockdown, keep in mind that, this summer, there are no restrictions. That means your consumers will be back out in the community again, going outside more often and for longer periods of time, and, in theory, spending a lot less time inside, boredom-shopping.
However, a couple of positive things to keep in consideration, especially if you have a physical shop, are:
1. Good weather makes us impulse buy. It works a little like this:
Sunshine = dopamine.
Dopamine = impulsivity for more dopamine.
Shopping = dopamine.
Sunshine + Shopping = dopamine, dopamine, dopamine!
2. Warm weather makes people want cool, fruity treats to make us feel more refreshed.
These two things can definitely work in your favour, if you play your cards right. So, what do we need to do to play the winning hand?
Tip One: Bring Down the Temperature
We don't mean to bring down the temperature of your shop, although, to be honest, that could probably help, in a way.
What we mean is that one of the reasons chocolate doesn't sell very well over summer is because it's thick and, once it's left to melt in your mouth, becomes warm and coats the tongue - not really what you want on a hot summer's day.
But, working with chocolate is what we do, right? That's who we are!
One way you can overcome this issue, whilst keeping the essence of your business intact, is to invest in some cooler options.
Gelato and Frappshakes, for instance, are a fantastic solution; they're cold, they're versatile, and they're cost-effective.
We picked up on this trend, along with many sweet treat establishments nationwide, back in 2018, and it doesn't seem to be going anywhere any time soon.
With Callebaut releasing ChocoGelato 4 years ago, suddenly the doors of opportunity for chocolatiers swung wide open. No longer would business owners have to slave away trying (with greatly varying degrees of success) to combine their chocolate with ice cream.
Callebaut provided a range of ready-made chocolate gelato bases, made from real Belgian chocolate, designed to help the nation's chocolatiers compete against rising temperatures.
If baking's your passion, you could use chocolate gelato to create your very own version of a Ben & Jerries for your consumers, fresh and homemade right there in your shop!
Simply pump your chocolate gelato into a small tub and top with your consumer's choice of chopped-up baked goods and topping sauces, you could even try layering it up - incredible.
Tip Two: Keep it Clean
When the weather's hot, there's nothing you want less than food that's going to make your mouth feel claggy.
When making your bars and bon bons this summer, try swapping out some of your winter favourite chocolates for some cleaner tasting options. 'Clean tasting' chocolates are chocolates that don't linger in the mouth after they've melted down or have been swallowed. This doesn't mean that they're not flavourful, quite the opposite. Their special recipes and compositions are so that the flavour profile doesn't rely as heavily on sugars and milk. As a result, these chocolates tend to stick to your mouth a lot less.
Here are a few chocolates we'd recommend for their amazing flavour profiles and clean mouthfeels:
Carma
An excellent place to start. Carma's Swiss chocolates are famous for their smooth texture, well-balanced, premium flavour profiles, and fantastic mouthfeel.
Carma are also the creators of the darkest dark and whitest white on the market.
When it comes to clean chocolate that your consumers will love, give the 64% dark, 35% milk, and 37% white a try.
Cacao Barry
A name that, in the world of chocolate, needs no introduction, Cacao Barry are revered for their luxury couverture chocolate, and are at the top end of the Barry Callebaut brands.
Therefore, it's only logical that they also make some of the most clean-tasting chocolates on the market, too.
We, and many renowned chefs and chocolatiers around the world, would recommend the Ocoa 70% dark, Alunga 43% milk, and the Zephyr 34% white for a truly premium summer in chocolate.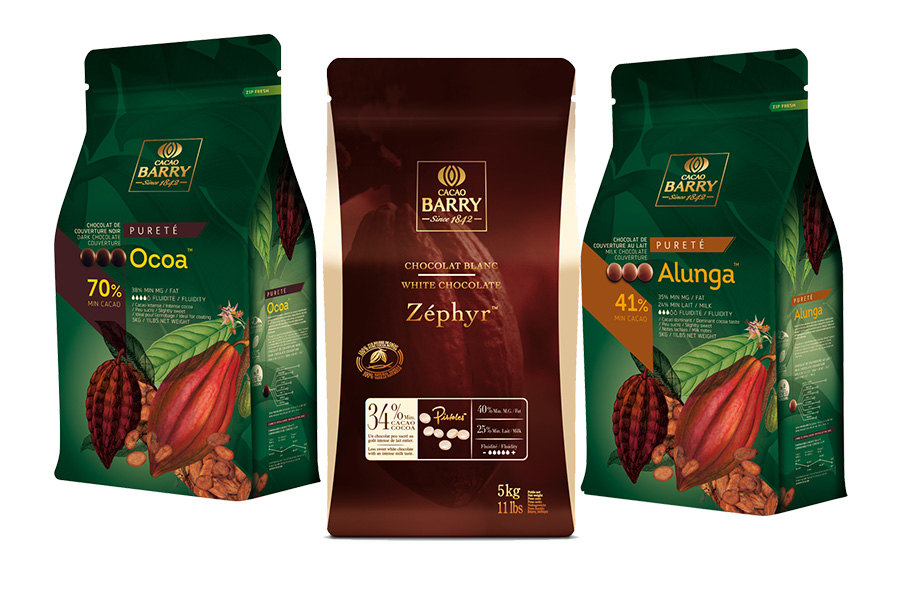 Lubeca
Coming in at a lower price point, for just as much flavour and quality, is Lubeca.
Here at Keylink, Lubeca's chocolates are a business-wide favourite. They're fantastically priced and deliver a taste profile that's well-balanced, complex, and clean.
We'd recommend their most popular pure origin chocolates: Peru 70% dark, Venezuela 47% milk, Schok Weiss 33% white.
Never heard of Lubeca before? Thank us later.
Tip Three: Offer an Adventure of the Senses
Summer is a simmering, exotic time for experimental pairings, with the rising heat drawing out cravings for fresh, fruity flavours.
Couverture chocolate is probably one of the best canvases for pairings, as the flavour profiles of the chocolates are already so full of complexity to begin with.
Cocoa beans, much like coffee beans, take on a unique, layered depth of flavour depending on the:
Soil
Climate
Proximity to other fruit trees at their point of origin
Fermentation process
It's what gives you the tang of red berries, the ooze of banana, the smokey notes of tobacco and earthy bark.
Compliment your couverture with the right ingredients, and it's absolute magic!
We've been busy in the kitchen over the past few weeks, matching some on-trend flavours with our favourite couverture chocolates for summer 2022, for you to try out in your business.
Tropical Burst
Banana & Passion Fruit Ganache with a Mango Gel.
The mellow ooze of ripe banana is the perfect balance for tangy passion fruit and mango. Encase the trio in a sweet, creamy Lubeca white chocolate, and you've got a little bite of heaven.
Check out the recipe and see what you think!
Mojito and cream
A Refreshing Rum and Lime Gel with a creamy White Ganache
You can imagine how popular these were in our office.
Our Mojito chocolates definitely bring the summer vibes in full force, making what was a cloudy spring day in the office feel more like a party around the pool!
Warning: moreish.
Ruby, Raspberry & Pistachio
A Ruby Bar filled with Raspberry Ganache, topped with Pistachios and Raspberry Pieces.
(A personal favourite) Carma's smooth, creamy, yet clean Ruby chocolate paired with a dreamy raspberry ganache really makes this one a winner.
The two flavours perfectly balance each other out, with the pistachios contributing a crunchy element to the soft ganache and snappy casting of the bar.
If you're going to make any of our recipe suggestions this summer, this fruity bar is a must.
Tip Four: Fluff Your Feathers
The fourth and final tip is all about colour, ribbons and a professional touch - not so much about actual feathers, but it will all make sense in a moment.
This summer, we recommend that you use your packaging like a tropical bird uses its feathers. Tropical birds are adorned in bright, saturated colours for good reason: they attract attention.
Now, no one's asking you to accompany your flashy colours with a song and dance (although, Instagram and TikTok probably are), but brightly coloured, unmissable packaging is going to help you tap into that impulse buying habit we were talking about earlier.
Much like we did in spring, we've analysed the high fashion trends and extracted key colours that are going to be huge for summer 2022. What better way to wrap your couverture chocolates and bakes than in the season's finest colours?
Zesty Orange
Citrus colours are so very summer. They're exotic and illuminating, reminding us of unusual fruits from islands dotting the equator. Orange is strong and energetic, fantastic for catching your eye, uplifting your mood and enticing you to take risks.
Perfect for presenting tropical flavour pairings!
Tangy Green
Green is a colour that's difficult to miss - it's all around us, especially in summer.
Being the dominant colour in nature, a punchy green is enough to transport you to a tropical paradise. The colour elicits feelings of refreshment, peace and abundance.
Our Mojito chocolates would be the perfect fit for bright green packaging.
Linen White and Buttery Beige
One of our favourite things about summer is the smell of magnolia and fresh linen in the air, and clean white sheets gently billowing in the wind.
If you're wanting some softer colours for your more delicate flavours, linen/off-white and buttery beige could work a treat.
Passionate Pink
Hot pink made an appearance in spring's colour rota, and it appears to be carrying through for summer - which we're ecstatic about.
Passionate pink is fun and inviting, and, personally, makes us think of all the elated music, dancing and joy of a Caribbean carnival.
Definitely a colour for your more daring pairings.
And those are our top tips, ladies and gents, we hope you had one or two Eureka! moments along the way.
We're sure to witness some impressive displays of creativity from our community over on Instagram, Twitter and Facebook this year, and we cannot wait!
For more recipes, articles and everything chocolate this summer, keep up with us on our socials.
Until next time,
Keylink.