Resources » The Blog
Get the most out of Afternoon Tea Week as a business owner
Posted: 08 Aug 2023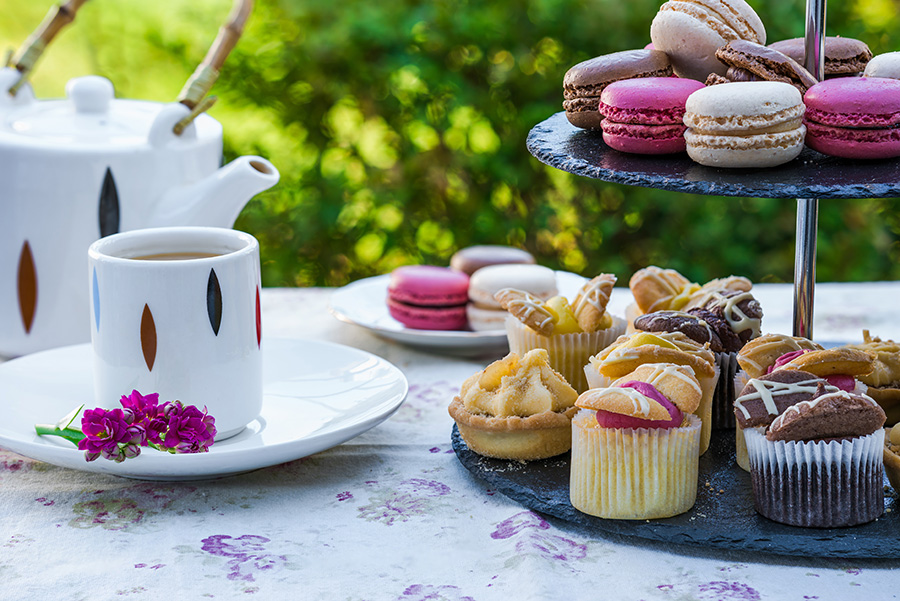 The British have loved afternoon tea ever since the Duchess of Bedfordshire introduced it in 1840 to fill that peckish gap between lunch and dinner. The onset of modern life with all its hectic schedules and food on the go saw opportunities to indulge in the tradition dwindle. Many of us are guilty of not stopping for a lunchbreak, never mind downing tools - or laptops - to sit down to tea and cake in the middle of the afternoon!
But afternoon tea is enjoying a renaissance, and the cucumber sandwiches aren't obligatory! While it's remained enduringly popular in establishments such as Fortnum & Mason, The Ritz, Harrods and Bettys, it's well and truly back in vogue in cafés and homes up and down the country, too. And for good reason…
Afternoon tea represents tradition, and most importantly, a sense of considered ceremony and a call to slow life down, if only for an hour. If you've ever enjoyed an afternoon tea with friends, you'll know it's as much about catching up between courses and admiring the food, as the eating and drinking itself. It's a leisurely, luxury affair and one that demands to be savoured and time taken over. And that's exactly what customers are looking for in their post-pandemic pursuit of a better work/life balance, a chance to spend more time with loved ones, and celebrate occasions big and small. What's more, afternoon tea is now something that can slot nicely into everyday life, from treating oneself to a cupcake from a local bakery to enjoy with a cuppa at home (and yes, afternoon tea hampers are enjoying increasing popularity too!) to visiting a local restaurant or café to enjoy afternoon tea in company - just because.
For food business owners, this represents a delicious opportunity! And as Afternoon Tea Week is coming up 7th - 13th August, now is the time to embrace this tradition and incorporate it into your offering. Here are some ideas to get you started…
Artisan chocolatier? Produce afternoon tea-themed chocolates. Infuse cream with different teas to make sublime ganache - Earl Grey and assam both work well. Make chocolates with flavours such as strawberries and cream, rose, cherry bakewell or even gin and tonic. The same concepts work for infusing chocolate to make bars. Package your boxes with a floral ribbon for an extra touch.
If you produce baked goods, encourage customers via signage and social media to stock up on your bakes to treat themselves for an afternoon tea at home, or to host a tea with friends in the garden. Perfect for summer! You could produce specially-decorated cakes, cookies and cupcakes in honour of Afternoon Tea Week. Time of the (vanilla) essence? Convenience products like dulce de leche are delicious for filling and topping cakes in one fell scoop.
Sell afternoon tea hampers. Many customers will enjoy afternoon tea at home, or want to send the fun of afternoon tea as a gift. You could even team up with other local businesses selling teas, jams or tipples to make a selection of fine local foods anyone would be pleased as punch to tuck into.
Sell baking kits so your customers can bake their own afternoon tea! Struggling to send out cake by post? Sell the dry ingredients instead! Add in some tea and you have an innovative way to bring baking fun and the tradition of afternoon tea to your customers' homes. Check out our post about baking kit ideas to get you started - we've already created recipes for you to print out.
Celebrate other cultures. The UK isn't the only nation to observe the tradition of afternoon or high tea - it takes many forms around the world. A Moroccan afternoon tea could feature baklava or spiced shortbread, served with mint tea. If a New York Plaza-style tea appeals, try making peanut butter and jelly chocolates or cupcakes! Or Hong Kong? A pandan coconut layer cake or tea-infused panna cotta would fit the bill nicely.
Whether you own a chocolate business, café, restaurant or sell online, Afternoon Tea Week represents an opportunity to reach customers in new ways and jump on afternoon tea's growing popularity. And if you fancy selecting a new single-origin chocolate to weave into your offerings, get in touch (0114 245 5400 or sales@keylink.org) and we'll be happy to offer suggestions!