Knowledge Bank » The Blog
How No. 12 Chocolatier is Making Profits with Personalisation
Posted: 31 Aug 2022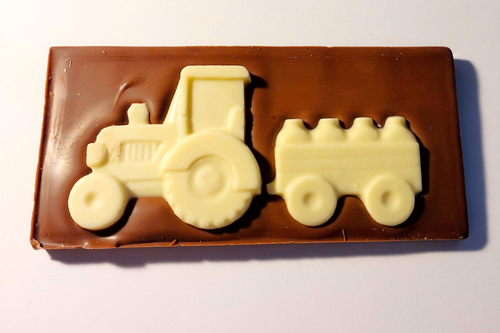 A recent study found that more than 50% of consumers expressed interest in purchasing customised products or services, with 1 in 5 willing to pay a 20% premium. Customisation is gaining traction across many industries – including the chocolate industry.
Whilst there is clearly a market for customised chocolate, tapping into it in a cost-effective way can feel like a feat in itself, with outsourcing custom moulds from dedicated suppliers costing thousands of pounds and months in time.
However, there is a way to combat the mould-making dilemma. Paul North, owner of No. 12 Chocolatier and a treasured customer of ours, has done just that, using the Mayku FormBox.
Love at first chocolate
Paul first began making chocolate around 6 years ago, after attending a 1-day chocolate-making course and falling in love with the craft. In 2018, he opened No. 12 Chocolatier – a successful chocolate shop, specialising in handmade Belgian chocolates and traditional fudge, in the beautiful market town of Kirton in Lindsey.
While it's no secret that Paul's success is owed to the incredible quality of his products, with a wide range of mouth-watering flavour combinations, the Mayku FormBox has helped Paul elevate his business.
Since finding out about the FormBox, Paul started thinking about the possibilities it could lead to. Having toyed with the idea for a good while, when an unmissable bespoke collaboration opportunity came up, Paul decided it was time to invest in the FormBox.
Lincoln Cathedral approached Paul, after noticing some of his creations online, and invited him for a visit, in the hopes of stocking his chocolate in their giftshop. During a tour of the Cathedral, Paul was presented with a 4-inch figure of the infamous Lincoln Imp and asked if he could create something similar, in chocolate form. Paul looked at his wife and said "Well, if I had a FormBox…" and that very day, he ordered his FormBox from us!
Using the Mayku FormBox, Paul was able to create 10 imp-shaped moulds in minutes. Using the imp figure as a template, Paul placed the item on the bed of the FormBox, allowing the machine to work its magic, vacuum-forming around the shape and creating a fully-bespoke imp mould. After repeating the process to create more moulds, Paul was ready to begin production, carefully lining up lollipop sticks with each mould before filling it with chocolate. Just like that, Paul's first chocolate Lincoln Imp lollies were made!
---
"The expense of having a custom mould made, just for you, is usually astronomical. [With the FormBox] you can just make it yourself, for really not a lot of money.
If you want a custom mould, made from a similar material to the FormBox sheets, it can be over £900. The FormBox and the sheets cost me less than that, and the Lincoln Imps alone have already paid for the price of the FormBox. Everything I make now, is a profit."
---

Each lollipop was packaged with an information card supplied by the Cathedral. No. 12 Chocolatier initially received a pack of 1,000 of these cards – they're now well into their third 1,000-card pack, with nearly 3,000 lollies being made using the same 10 moulds.
The Mayku FormBox can save you a substantial amount of money, compared to traditionally-made moulds, making one-off requests easy to fulfil, without eating into profit margins. In fact, using the FormBox, you can create quality custom moulds from as little as £1 per mould!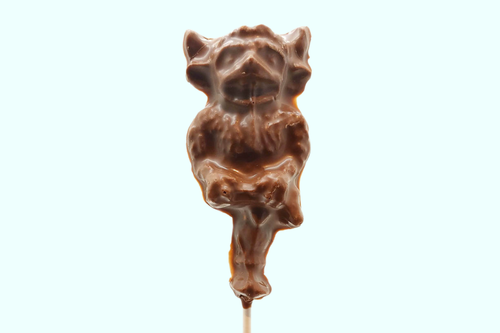 The key to new opportunities
Although the Lincoln Imp is what initially drove Paul to purchase the Mayku FormBox, the little machine has enabled him to work with multiple businesses across the Lincolnshire area, creating chocolates unique to each and every one. Amongst these is a local farm shop, that – alongside a range of regular No. 12 Chocolatier goodies – stocks an edible version of its own logo. Using a fridge magnet as a template, Paul created a mould for the entirely bespoke chocolate. The finished chocolate comprises the farm shop logo, made from white chocolate, embedded onto a delicious milk chocolate slab. The unique chocolate has proven so popular that, in addition to being a permanent fixture in the shop itself, it was sent out in over 300 hampers, last year.
Expand your range Creating bespoke chocolate for other businesses has been a great venture for Paul, but he also has plans to create unique chocolates, exclusive to No. 12 Chocolatier.
"I always struggle with Father's Day gifts, so I'd love to create something for Father's Day, something that's unique to us. Something that's different to what you can just buy off-the-shelf anywhere."
The FormBox has definitely given No. 12 Chocolatier an edge over any competition, enabling Paul to offer entirely bespoke items – something his competitors are unable to do. "It has helped the business, and I think it'll continue to help us grow."
---
"You can get a template made of anything. Once you've got a template, it's endless what you can do."
---
We loved chatting to Paul and hearing about what he's creating! Without revealing too much, we can safely say that he's full of fantastic, unique ideas that we're really excited to see brought to life with the Mayku FormBox.
The Mayku FormBox is available to buy, directly from Keylink, right here. If you would like more information about how the FormBox can help your business thrive and keep atop changing trends, read our blog on the power of personalisation.
Keep up with Paul's tasty treats by following No. 12 Chocolatier on Instagram or visiting their website.