Enjoy the exquisite taste of Griottines® and Framboisines®
Discover the Exquisite Taste of Griottines® and Framboisines®
We are delighted to announce the creation of Premium Gastronomie, a new entity comprising Remy Cointreau Gastronomie and les Grandes Distilleries Peureux. As Remy Cointreau's exclusive distributor in the UK and Ireland for nearly 20 years, Keylink are now equally delighted to be able to bring you the full range of Peureux's highly acclaimed Griottines® and Framboisines®.
Griottines® are made using a very special type of Morello cherry, the Oblachinska cherry found only in the Balkans. To conserve the unique flavour and physical characteristics of the fruit, the first maceration of the cherries in liqueur takes place within six hours of picking. After rigorous sorting, grading and de-stoning, the Morello cherries are then steeped in different liqueurs for successive macerations based on age-old know-how and secrets. The last maceration provides the final touch of Kirsch which is the hallmark of Griottines, or as a wonderfully harmonious alternative, Cointreau.
Framboisines® are raspberries steeped in liqueur and raspberry brandy. Drawing on their long experience and know-how, Peureux have succeeded in preserving the delicacy and firmness of the raspberry to create a 100% natural product with no colouring agents or preservatives.
Framboisines® are available only as whole raspberries and are especially effective as décor for desserts or petit-fours. Griottines® are available as whole de-stoned cherries, Griottine halves, chopped Griottines® or Griottines® Décor (semi-candied de-stoned cherries with stalks) and are perfectly suited to a wide range of uses and occasions, including:
as centres for chocolates
as décor on chocolate petit-fours
in or on desserts
with waffles or crepes
in cakes such as Black Forest gateaux
with ice cream
in champagne or cocktails
with savoury hors d'oeuvres (Traiteur).
Recipe 1 - Pralines filled with Dark Chocolate Ganache and Griottines
Half-fill a moulded praline shell with a dark chocolate ganache.
Insert a whole Griottine with the 'hole' from the stalk pointing upwards.
Carefully pipe more ganache into the Griottine to avoid any air pockets and then fill the remainder of the praline shell.
Close with chocolate as usual.
In this recipe, you can also use pre-chopped griottines instead which makes it easier to pipe in the ganache but still gives you the full impact of the griottines. If you want to use the Griottines au Cointreau, simply chop them up by hand.
Recipe 2 - Griottines Petit-Fours
Two-thirds fill a dark chocolate petit-four cup with your ganache.
Place a Griottine on the top and serve.
As an alternative you can use a Griottine Décor, which looks fantastic and will give your petit-four plate some height, or you can use a Framboisine.
Griottines for Resale
The Griottines Original are also available in 5cl and 35cl gift jars and all the other variations such as Griottines au Cointreau, Griottines Traiteur and Framboisines are available in the 35cl jars (please note that the red box is not included as standard).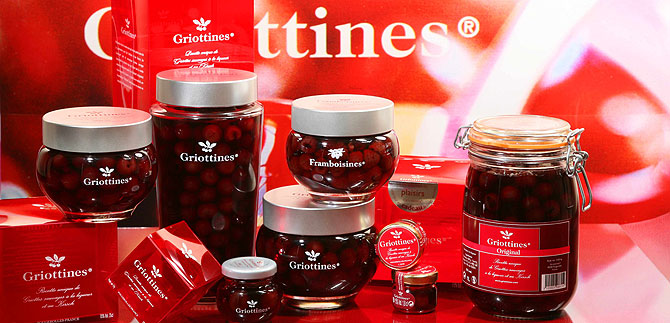 These attractive and distinctive gift jars make ideal products for resale directly to your customers and will sit perfectly alongside the rest of your luxury confectionery.
To see our full range of Griottines and Framboisines, click for Duty Paid products or for In-Bond products or for Resale products, or call us on 0114 245 5400
Recipes with Griottines and Framboisines
Click here to find recipes using Griottines and Framboisines